The Petron e-Fuel Card is a stored-value (prepaid) card. It provides for a fully electronic means by which to load funds, validate authenticity, and settle merchant transactions.
It may be used to purchase Petron fuels and lubricants at participating Petron stations nationwide.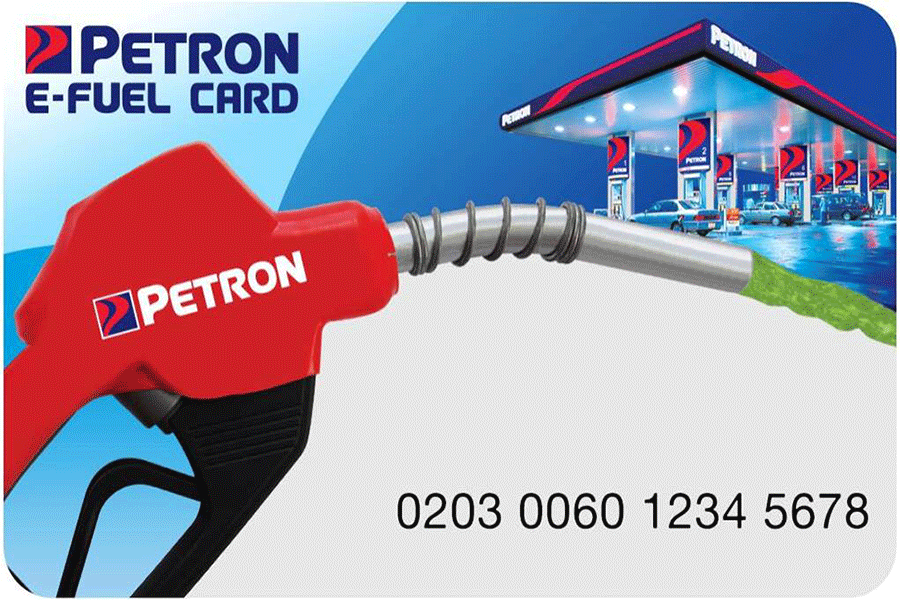 The Petron e-Fuel card is a convenient and secured way of providing funds for fuel
It is the perfect gift to your family and friends. And because it is reloadable fuel allowance can be allocated conveniently.
How much can we load in the Petron e-Fuel Card?
Any value in Pesos from a minimum of P1,000.00 may be pre-loaded on the Petron e-FUEL Card. A card fee of P50.00 will be charged to any amount less than P1,000.00.
Is the Petron e-Fuel Card transferrable?
Yes, the Petron e-FUEL card is transferrable.
Is the Petron e-Fuel Card redeemable for cash or credit?
No, it is not redeemable for cash or credit and is not replaceable when damaged or lost.
How many times can I use my Petron e-Fuel Card?
The card may be used as many times as the cardholder wishes throughout its validity period until the full amount stored in the card is depleted.
Who will keep track of my Petron e-Fuel Card's remaining load and usage?
The cardholder is responsible for monitoring usage of preloaded value and may inquire for card balance through text messaging. To check the remaining value stored on the card, visit this LINK. Card balance can be checked through BPI's phone banking and at participating Petron stations.
I intend to use the Petron eFUEL as a marketing tool for our company, is it possible to have our company's logo printed on the card?
With prior arrangements, your brand may be printed on the Petron e-FUEL Card. For inquiries, call 8802-7777 or email prepaidcard@petronphtest.risingtide.ph.
What are the eFuel affiliated service stations?
Click HERE for the list of affiliated service stations.
Click HERE the list of Petron e-Fuel affiliated stations.
| | |
| --- | --- |
| National Capital Region (NCR) | 214 |
| North Luzon | 96 |
| South Luzon | 133 |
| Visayas | 104 |
| Mindanao | 114 |
| TOTAL | 661 |