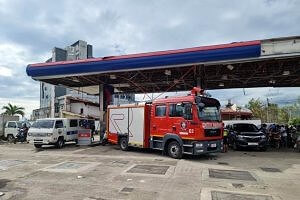 From its terminals down to its stations, Petron Corporation has demonstrated the strength and resilience of its operations amid challenges posed by typhoon Odette.
The company announced that nearly all its stations that sustained damages in Visayas and Mindanao have been fully restored and operational less than a month since the onslaught of typhoon Odette.
Petron's on-ground teams worked double-time to fast-track the restoration and re-opening of stations that had to close down to undergo damage assessment and repair.
Repair works are still ongoing in a few more stations in Bohol, Cebu, and Siargao—among the hardest hit areas by the typhoon. Despite the power outages, most Petron stations were still able to operate using gensets.
Petron had earlier assured the public of building up its product inventory to accommodate the high demand for fuel, especially from government agencies crucial in recovery and clearing efforts, as well as hospitals, power plants, airports, water facilities, among others.
Petron's terminals worked round the clock to meet the growth in demand, soaring by almost 200% in some affected areas.
The oil firm also deployed additional tank trucks to accelerate the delivery process and reach more customers. It also made other adjustments like securing alternative source plants to ensure continuous and uninterrupted product replenishment.
In the typhoon's immediate aftermath, all Petron import facilities and terminals were back online, continuously and safely working to serve the needs of the locals.
Through its local teams, dealers, and the LGUs, Petron was able to identify the urgent concerns of vulnerable communities in typhoon-battered areas. The company, through its Petron Foundation and terminals, had already distributed canned goods in Mandaue and Mactan to about 3,700 families.
Petron also remained in close coordination with its dealers to ensure order and compliance in its stations.